THE WORLD'S MOST VERSATILE SINGLE SCREW SNACK EXTRUDER.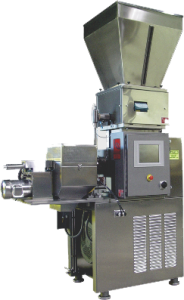 The Advantage series extruders are some of the most versatile extruders in the world. Capable of making a wide range of product shapes by utilizing a variety of tooling options. The Advantage series extruders are also capable of using our optional auxiliary cutters to produce additional items such as: fabricated tortilla chips, cream filled pillows, wavy chips, potato sticks and croutons.
Benefits: Vibro feed hopper with vibrator and screw auger for easy metered flow of raw materials, quiet direct drive, speed control of main drive via inverter. Motors are efficient inverter duty, inverter supplied with extruder. Both heating and cooling temperature control. Control panel includes switchgear, AC inverters, controls and display for die temperature, digital amp meter and tachometer for main screw speed.
Construction: Painted mild steel 3″ tubular frame, stainless steel belt guard, stainless steel hopper, stainless steel guard at product discharge, painted castings, stainless steel motor skirts. NOTE: All stainless steel construction with nickel plated casting is optional on all Advantage Series Models.