INTERMEDIATE OR FINE GRINDING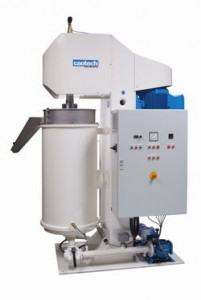 The attrition ball mill type CAO 2000 is especially designed for the intermediate or fine grinding of cocoa liquor, chocolate and compound coatings.
This ball mill, a low speed agitated type and direct drive, developed for heat and wear sensitive masses has a unique configuration between grinding shaft, grinding tank and grinding media, resulting in an optimum use of the grinding efficiency.
These features result in:
No foundations, limited floor space
Low energy consumption
Low maintenance costs
Constant product quality
Minimal manpower required
End-fineness can be up to 18 microns for chocolate / compound coatings
End-fineness can be up to 99,9% through 75 microns sieve for cocoa liquor
The capacity for the grinding of cocoa liquor is up to 2.000 kg/hr
The capacity for the fine grinding of chocolate and compound coatings is up to 1.200 kg/hr when powdered sugar is used as an ingredient.