PRODUCE POTATO STICKS, FLAT AND WAVY CHIPS ON A BAKE TYPE EXTRUSION PRODUCTION LINE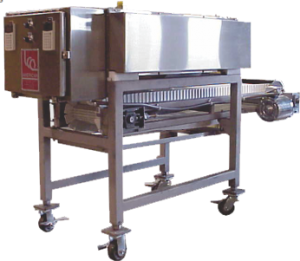 Cuts into Lengths from 1 cm to 8 cm
The Reel Cutter from American Extrusion lets you produce simulated corn chips, rice chips, potato chips, potato sticks and wavy chips on current bake-type extrusion production lines.
Benefits: Variable speed knife for length control, variable speed roller for stretch and strand control, pneumatically loaded compression roller to compress product. Above features allow operators to maintain total control of the texture, size, thickness and crispiness of the product.
Construction: Main unit constructed of 304 stainless steel rollers constructed of Electroless Nickel plating or food grade nylon (depending on application), frame is made of 3″ tubular steel painted food grade white. Equipped with necessary rollers to make ship sticks.